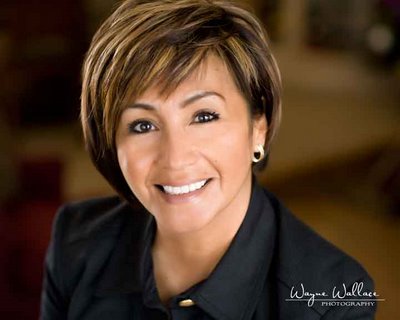 I worked with Rebecca to create some contemporary executive publicity headshots. Rebecca owns an accounting business here in Las Vegas and wanted to produce a warm and friendly image for her advertising materials.
Oh my goodness! I am so very blown away! I could not possibly be any more impressed! I feel so very fortunate to have found Wayne and not your typical photographer. Wayne is a creative artist and innovatively creates the perfect "shot" each time from nothing. Artistic and technical – that is so very rare.

Wayne Wallace is such an incredible talent. He so enjoys the work that he does. It was an absolute pleasure from beginning to end and an experience that will always be so memorable. I had so much fun and I remember thinking that I didn't want it to end.

As a business professional myself, I know that I have high expectations of other professionals. Wayne certainly exceeded my expectations and his attention to detail shows in every aspect of his business. He kept his commitment and then some. A true professional knows that their name really is on everything they do.

I have to say that when I first saw my slideshow – I was completely overwhelmed. Well, I still am. To think that these are the "unretouched" versions seems incredible enough so to think that they could possibly get better or improved upon seems unbelievable.

I remember laughing at the term "celebrity headshot" as if I could possibly qualify as a "celebrity" but now I truly feel like one. I must be some kind of celebrity with photos like these that seem to belong in a "portfolio" of some kind.

So how can one possibly select the best shots when they are all great? It was crazy so I had to ask friends and family to assist me and it took days. Wayne captured who I really am. He knew how to do that and he brought out my personality with honest and natural expressions. That is a talent.

As a businessman, he has perfected the entire viewing and ordering process to provide information to educate his clients along with step by step instructions for making the process completely effortless. He has all the bases covered with his beautiful and effective websites. What more could you want?

So I will be referring everyone I know to Wayne for the very best experience and a chance to feel like a celebrity. I know that those who see my photos will be so impressed they will insist on contacting Wayne.

It was fun. I had nothing to worry about, just leave it to Wayne, the professional.

A million thanks to you Wayne! You are truly outstanding!
Until the next time, bye for now..
Rebecca Collett,
RCC - Business & Financial Management Consulting
Labels: Business Advertisng Photos, Business Headshots, Contemporary Headshots
---
0

Comments
Published by Wayne Wallace on Monday, February 02, 2009 at 11:33 PM.