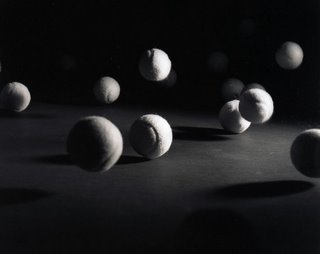 My image "Spheres in Space" was nominated in the 2005 Black and White Spider Awards international photography competition. The judges are among the most respected in the industry. What an honor having them recognize my image.
The Spider Awards
I'd like to personally thank all the judges below for their time and participation in this program.
Sue Brisk, Editorial Director
Magnum Photos, New York
Rebecca Bedrossian, Managing Editor
Communication Arts Magazine
Cliff Li, Director
Leica Photo Gallery, Brazil
David Clarke, Head of Photography
Tate Gallery, London
Ailsa McWhinnie, Editor
Black & White Photography Magazine, UK
Darren Ching, Creative Director
Photo District News (PDN)
Anita Dammer, Editor-in-Chief
Photo Life Magazine, Canada
Julian Watt, President
Society Advertising, Commercial &
Magazine Photographers, Australia
Thom Vogel, Director
Bonni Benrubi Gallery, New York
Andrea de Polo
Fratelli Alinari Museum, Florence
Eric Browner, Administrator
Man Ray Trust
Filippo Tattoni-Marcozzi
Hamiltons Gallery, London
Ton van Zeijl, Former President
British Institute of Professional Photography (BIPP)
Andrea Hinteregger, Director
Artrepco, Zürich
Rocco Piscatello, Founder
Piscatello Design Centre, New York
Dr. Johannes Pernkopf, Founder
Galerie Pernkopf, Berlin
Sandra Byron, Director
Sandra Byron Gallery, Sydney
Roger Sonnewald
J.J. Heckenhauer Galerie, Berlin
Jurriaan Van Kranendonk
Van Kranendonk Gallery, The Hague
Roger Szmulewicz, Founder
Fifty One Gallery, Belgium
Conrad Hechter, Correspondent
Studio Magazines, Australia
Marty Weiss, Founder
Meter Gallery, New York
Michael Fulks, Publisher
Apogee Photo Magazine
Vaughan Judge, Head Fine Art
Glasgow School of Art, Scotland
Alice Miller, Editor
Studio Photography & Design Magazine
Javier R. Cardona, Curator
Perfect Exposure Gallery, Los Angeles
Juana de Aizpuru, Founder
Galeria Juana De Aizpuru, Madrid
Alexis Gerard, President
Future Image
Kelly Padden, Assistant Director
HackelBury Fine Art, London
Stephen Toner, Editor-in-Chief
EXIT Magazine, London
---
0

Comments
Published by Wayne Wallace on Monday, December 05, 2005 at 2:03 PM.