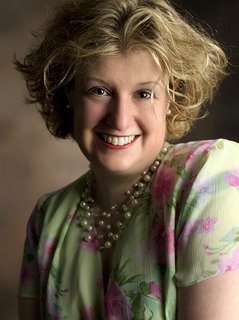 Jennifer had never worked with a professional photographer before and was nervous about getting her portrait made. I assured her that it would be fun and painless and I would make her look great. I can do that for you too!
Wayne took some pictures of me for an online dating site back in April, 2005. The shoot went very well. As a result of the comfortable atmosphere, and his affable personality, some great shots were taken. I was very pleased with my photos, so much so that I gave my mother a print of me for a Mother's Day gift, which she loved. As for the dating site, I'm not on it anymore, thanks to Wayne's wonderful pictures. I found someone special, and I'm convinced that Wayne played an important role in me meeting my boyfriend. -- Jennifer
---
1

Comments
Published by Wayne Wallace on Tuesday, January 31, 2006 at 12:07 PM.