I had fun working with this crazy group of girls from Atlanta today.
They're here in Vegas for the weekend having a little fun and celebrating Lisa's birthday.
They wanted to do some Pin-Up Girl style photos.
Here's one of my favorites from the shoot today.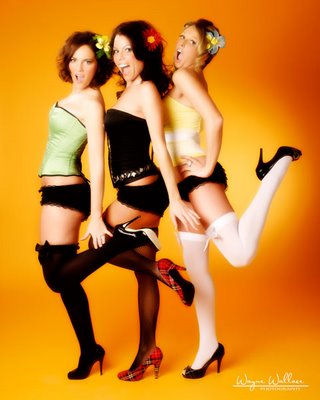 "Hi Wayne! This is so cute! The shoot was amazing and we all had an absolute blast! I don't think we could have asked for anything more. I can't wait to see the pics! Thanks for everything YOU'RE AWESOME! My 30th birthday will always be remembered with your shots!!!!!
-- Lisa


"You are the BEST!!! You really took care of our group & made it a fun, memorable day. Couldn't have asked for more. We're so excited to see the pics. Thanks for everything."
-- Tonya
Labels: Glamour Photography, Model Portfolio Photography, Pin-Up Girls
---
2

Comments
Published by Wayne Wallace on Saturday, March 15, 2008 at 1:48 AM.